Andrew Ballance –
Humanistic Psychotheraputic Counsellor
​
Hi, I'm Andrew, a Humanistic Psychotherapeutic Counsellor. I offer time-limited as well as open-ended therapy here in East London. In my experience of life and therapy, I have found that the most sustainable solutions are those that arise organically from within. I hold a non-judgemental and lively space in which you can touch on whatever troubles or interests you. In this way I hope to support you in reaching your best way forward in life. I welcome individuals from all backgrounds.
My work is trauma-informed and interpersonally-oriented, which means I strive to work at a pace that suits you, and remain sensitive to the nature of our encounter and conversation. I will be curious about your whole person; your specific lived experience and how you find meaning within your everyday world.
I have extensive experience of providing counselling in the third sector since 2015. In this time I have successfully worked with clients bringing a broad range of issues to therapy. You may feel that anxiety or depression are holding you back, be having trouble at home or at work/school, struggling to live and eat well, or feel held back by particular events. I will support you in finding a way forward that acknowledges both your past, present and future; how you got here, as well as your current hopes and fears.
Training and qualifications
I qualified as a Psychotherapeutic Counsellor from the Metanoia Institute, of which I remain a member. I also hold an Advanced Diploma in the Therapeutic Use of the Arts, and a Certificate in Counselling Skills for Working with Children.
I am a registered member of the British Association for Counselling and Psychotherapy and abide by its code of ethics.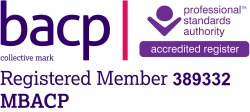 I offer a free initial consultation, upon request, so that you can get a proper sense of what it might be like working with me and whether counselling is right for you at this time. This can be face-to-face or online.
Sessions typically last 50 minutes, and take place weekly. My standard fee is £70 in the daytime, £75 from 5pm, with concessionary rates occasionally available.
I mainly have availability on Tuesdays and Fridays, however please enquire for up-to-date availability.